Netwerkvoedingseenheid, van toepassing op het model, zoals voeding van de camera, monitor, grote router enz.
Ons model STD-60-12, het is uitgangsspanning 12VDC, uitgangsstroom 5A, uitgangsvermogen 60W.
Hoog rendement, lange levensduur en grote stabiliteit.
Kenmerken:
Met pure cooper-draad en 100% voldoende vermogen.

Met betrouwbare ijzeren schaal voor betere warmtestraling;
Stabiel ontworpen circuit met breedspanningsingang en nauwkeurige stabilivolt;
Multi-bescherming tegen kortsluiting, overstroom, overbelasting;
Met 100% overbelasting verouderingstest gegarandeerd;
Met een prachtige uitstraling, draagbaar gebruik en eenvoudig onderhoud.
Beschikbaar zijn om het volgens de eisen van de klant te produceren.
Technische parameter
Performance
Model
STD-25-12
STD-30-12
STD-60-12
Output Power
25W
30W
60W
Output Voltage
12VDC
12VDC
12VDC
Output Voltage Tolerance
±1%
±1%
±1%
Output Current
2.1A
2.5A
5A
Output Current Range
0-2.1A
0-2.5A
0-5A
Ripple and Noise
120mVp-p
120mVp-p
120mVp-p
Into line Stability
±0.5%
±0.5%
±0.5%
Load Stability
±0.5%
±0.5%
±0.5%
Efficiency
78%
78%
78%
Adjustable Output Voltage Range
±10%
±10%
±10%
Input Voltage Range
85~132VAC/170~264VAC switch 47~63Hz;240~370VAC
Surging Current
Cold 18A/110V 36A/240V
Leakage Current
<1mA/240VAC
Overload Protection
105%~200%,type:foleback power limit reset,automatic recovery.
safety standard
UL1012 REQUIREMENT (NOT APPLY FOR THE MARK)
EMC standard
FCC PART15JCONDUCTION CLASS A
Productshow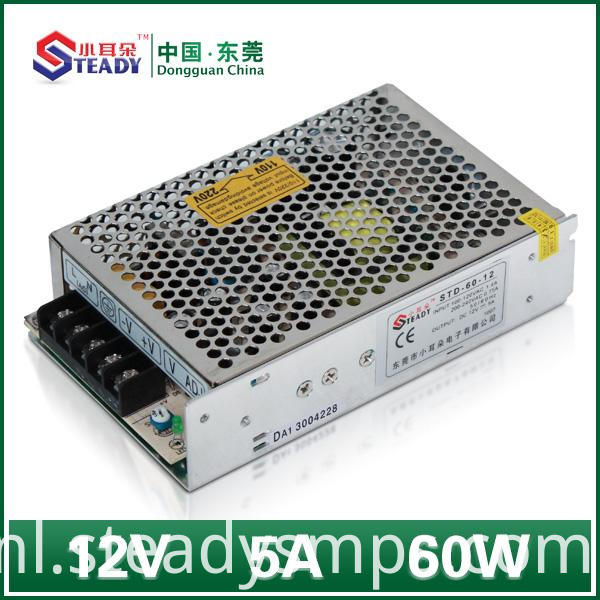 Toepassing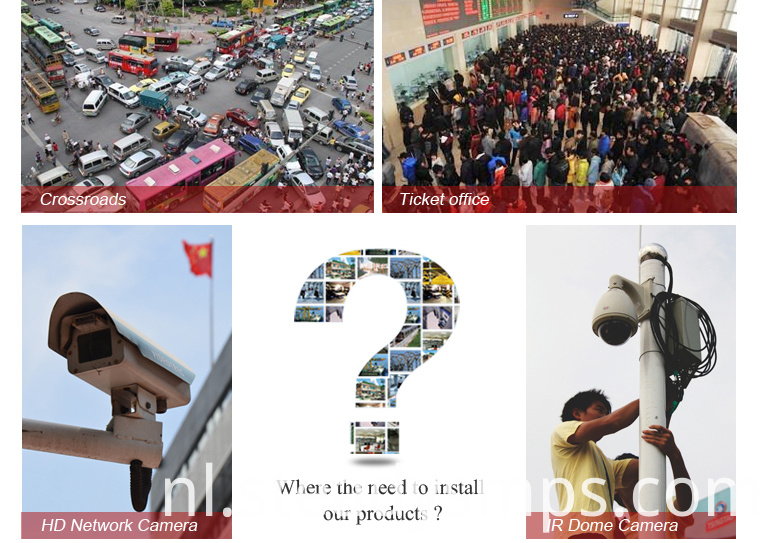 Gerelateerd product
Over ons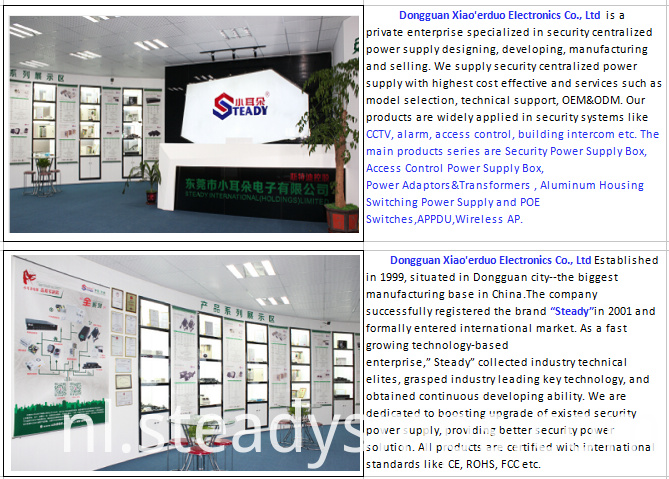 Onze voordelen:
1. Productieproces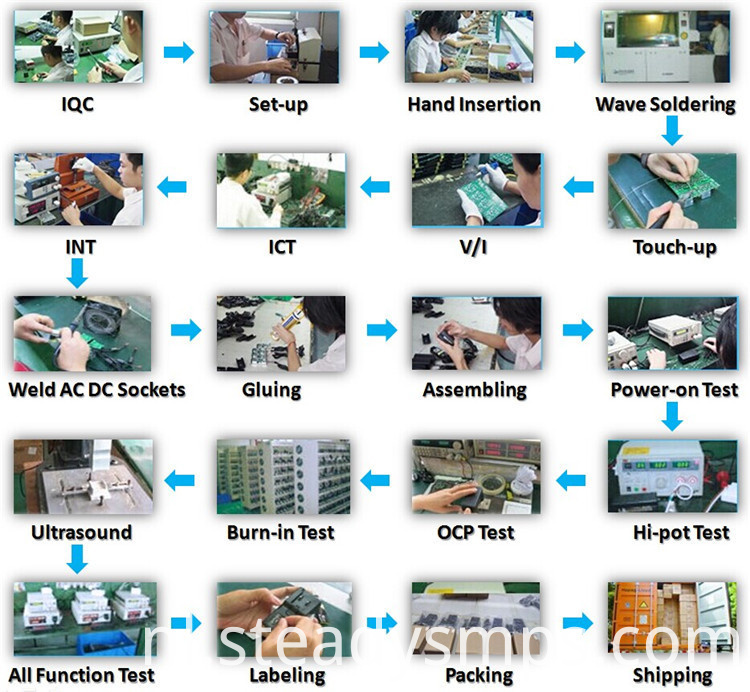 2. tentoonstelling: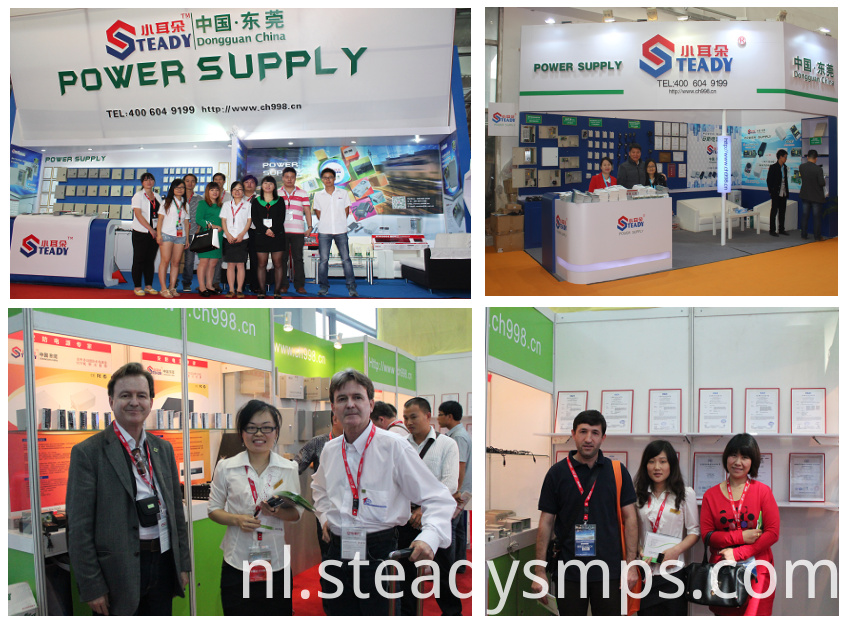 3.Certification: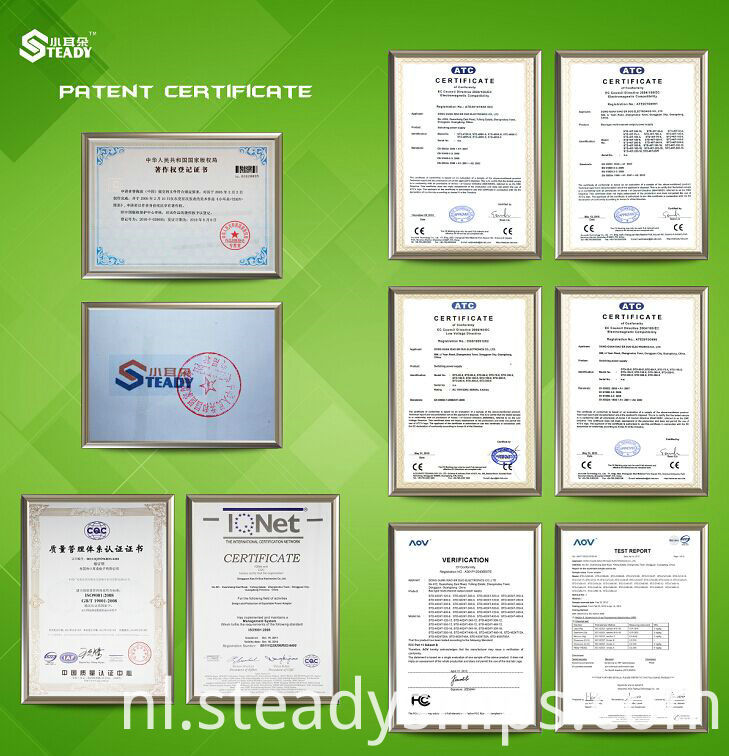 4.verpakking en verzending:
5. V & A:
MOQ: Geen MOQ voor proeforde, en wij kunnen vrije steekproeven verstrekken om te testen.
Betaling: T / T, Western Union, Paypal, Trade Assurance.
Levering: 7 werkdagen voor steekproeforde, 12 werkdagen voor 500pcs.
FOB, EXW en CIF zijn allemaal beschikbaar.
Verzending vracht wordt vermeld onder uw verzoeken.
Laadhaven: Shenzhen / Donguan / HongKong.
Kortingen worden aangeboden op basis van grote hoeveelheden.
Prijs: Vraag een offerte aan
6. onze service:
1. Welke service kunnen we bieden?
1. Alle vragen worden binnen 24 uur beantwoord
2. Professionele fabrikant, welkom op onze website
3. OEM / ODM beschikbaar:
A.Print-logo op ons product;
B. Aangepaste specificatie;
4. Na de verkoopdienst:
A. Alle producten hebben een 100% inbrandtest en een strikt kwaliteitstest voordat ze worden verzonden;
B. Snelle levering: 3-7days voor steekproeven, 15-20 dagen voor bulkproductie;
5. Hoog rendement, levensduur met lange levensuur, redelijke & competetative prijs, snelle productietijd;
6. Wij hebben ons ingenieursteam, als u om het even welke vraag over uw LEIDENE toepassingen hebt, laat ons vrij weten.
Product Categorie : Schakel modus voeding > Netwerkvoeding