CCTV-voedingseenheid met UPS 12V10A , 12vdc-voeding met UP S voor bewakingscamerasystemen. Cctv-voeding 12v 10a Met batterij 12V7AH voor noodstroomvoorziening e. 12v back-upstroomvoorziening met stroomkring korte bescherming, hoogspanningsbeveiliging, overstroombeveiliging en UPS-functie.
Kenmerken:
1. Beschermingsmaatregel
>> Algemene bescherming: elke uitgang heeft een individuele PTC-zekering en een LED-indicator, wanneer het probleem zich voordoet, hebben alleen invloed op de individuele uitvoer, terwijl andere uitgangen nog steeds werken.
>> Circuit Short Protection: wanneer er een korte toestand optreedt, zal een individuele PTC-zekering het circuit openen, wanneer de conditie is verwijderd, zal de PTC-zekering automatisch weer sluiten.
>> Hoogspanningsbeveiliging: wanneer een hoge spanning optreedt, wordt de overspanningsbeveiliging getroffen om het aangesloten apparaat te beschermen.
>> Over Huidige bescherming: wanneer overstroom voorkomt, zal de voeding automatisch naar zelfbeschermingsstatus overschakelen, wanneer voorwaarde verwijderd,
schakel dan terug naar normaal.
2. UPS-functie
>> wanneer de normale toestand, PS zal zorgen voor volatege en automatisch opladen voor de batterij, laadspanning zal 13.0-13.6V DC zijn.
>> bij het doorslijpen van het vermogen, zal de batterij automatisch spanning leveren, het vermogensbereik zal ononderbroken 40nS zijn wanneer de batterijspanning lager is dan 10,5V,
geen stroomvoorziening voor de belasting, om de levensduur van de batterij te beschermen.
Connectiong Instructies:
<
STD Series CCTV Power Supply Unit with UPS Specifications
MODEL
STD-40T-120-9-B
STD-40T-120-9-UPS
STD-40T-250-18-UPS
STD-40T-350-18-UPS
OUTPUT
Output voltage
12V
12V
12V
12V
Channel of output
9CH
9CH
18CH
18CH
Output current
1.1A*9
1.1A*9
1.15A*18
1.5A*18
Output current range
0~1.25A*4
0~1.1A*9
0~1.15A*18
0~1.5A*18
DC power
120W
120W
250W
350W
Voltage adj.range
±1%
±1%
±1%
±1%
Ripple and noise
120mVp-p
120mVp-p
120mVp-p
120mVp-p
Line Regulation
±0.5%
±0.5%
±0.5%
±0.5%
Load stability
±0.5%
±0.5%
±0.5%
±0.5%
Efficiency
Efficiency
85%
85%
85%
85%
INPUT
AC voltage range
AC100-240V AC Switch 50/60Hz:
Leakage Current
<1mA/240VAC
Protection
Overload protection
105%-200%
T.C.
±0.03%(0-50℃)
Start.Rise.Hold time
200ms,100ms,20ms
Mechanical Shock
10-500Hz,2G 10min/1 Period,Time 60min
Insulation Strength
I&O:3KVAC,I&C:1.5KVAC I&C:0.5KVAC
Insolation resistance
I&O,I&C: O&C,500V DC/100M
Environment
Working Temperature
-10℃--40℃, 20%-90% RH


Store Temperature
-20℃--85℃, 10%-95% RH
Certification
Safety Standard
UL1012 REQUIREMENT(NOT APPLY FOR THE MARK)CLASS A
EMC Standard
FCC PART15JCONDUCTION CLASS A
Op grote schaal aan te vragen voor CCTV-camera, PTZ, IR Illuminators, Video Process Equipment, etc. Access Control Reader, Lock, Panel, etc.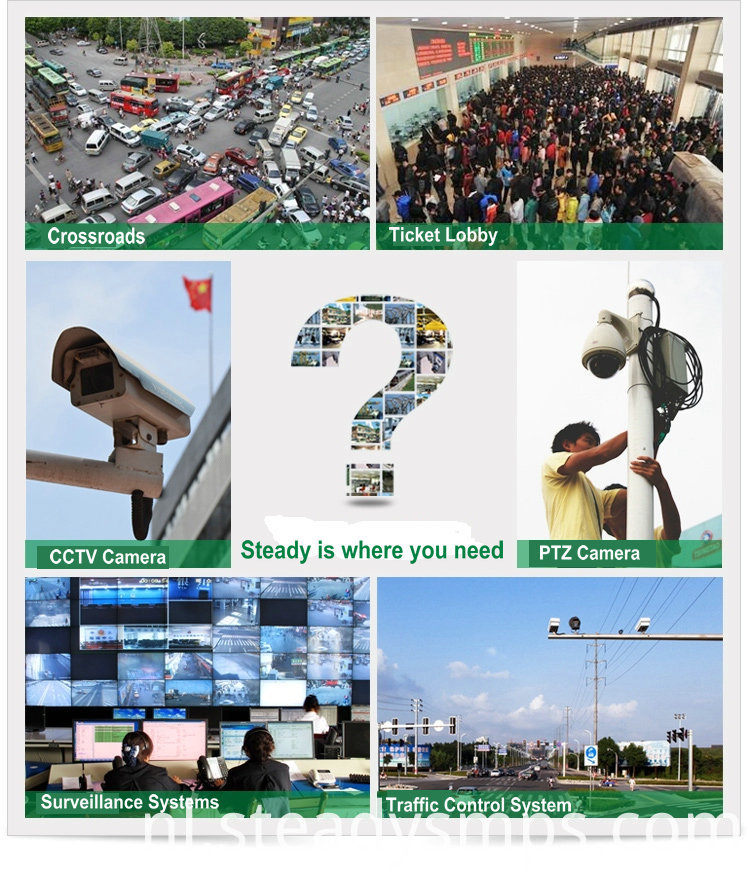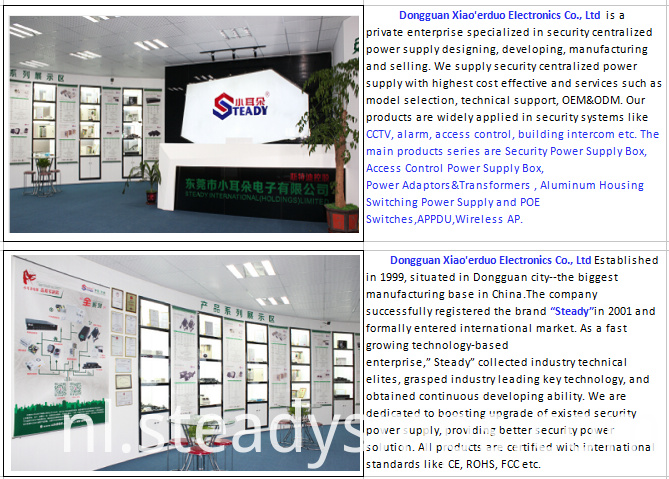 1. productieproces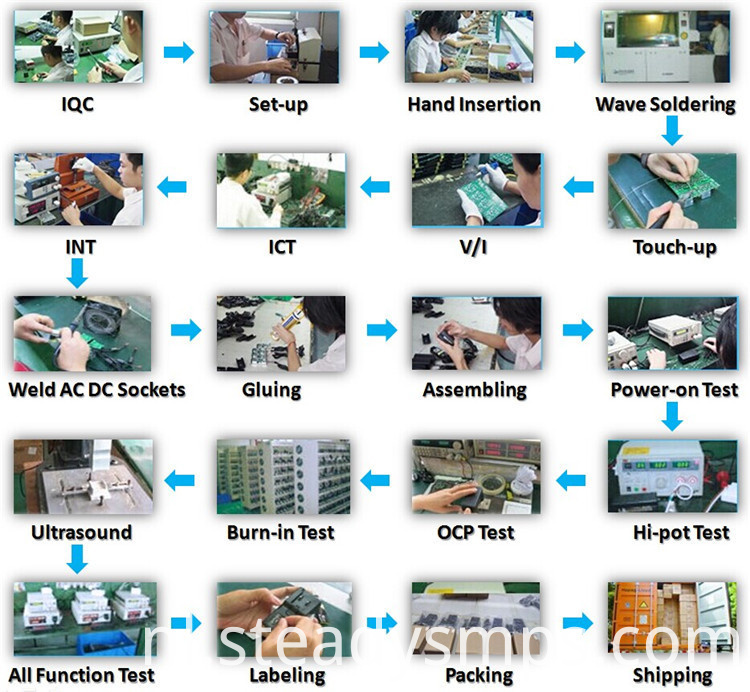 2. Tentoonstelling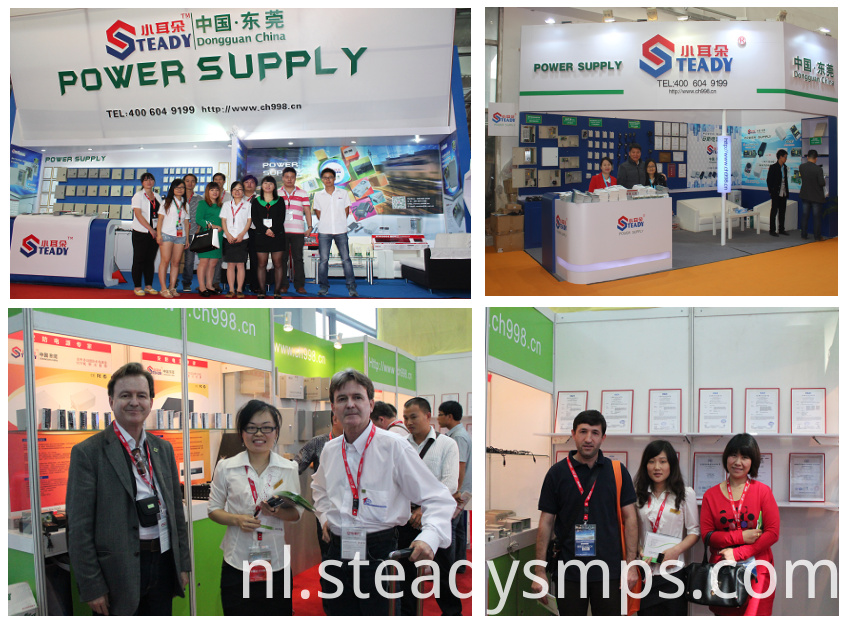 3.Certification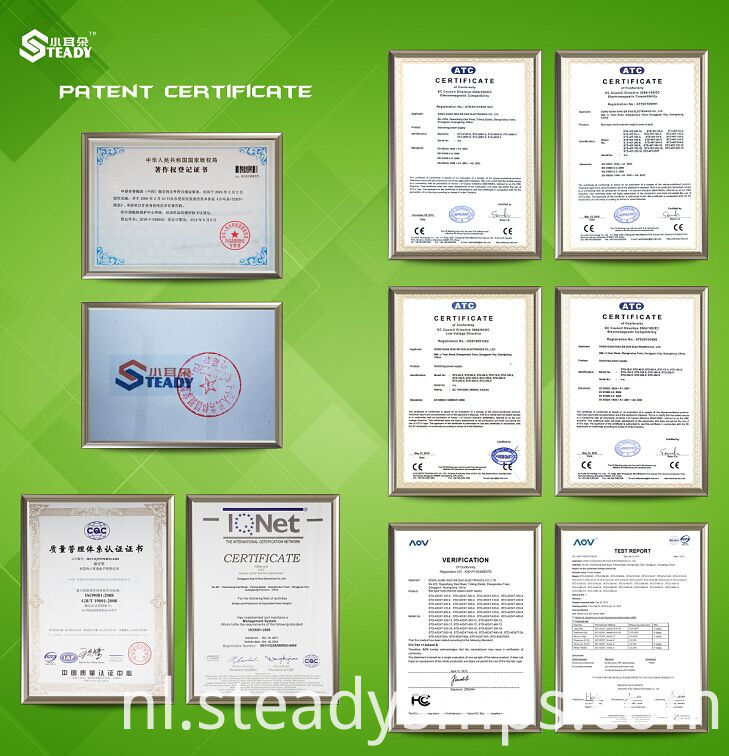 4. Verpakking en verzending
Product Categorie : Boxed Power Supply > Boxed Power Supply UPS